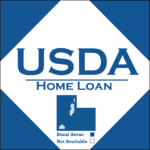 The USDA has some amazing merits which include: Financing up to 102% of the appraised value (not sales price), $0 Down Payment requirement, low-low monthly mortgage insurance, easy qualifying through lower credit score requirements, and more flexible property requirements than FHA or VA, and best of all with the USDA Rural Development Home Loan, if you have had a previous short sale, your waiting period to purchase another home is as short as one year even if you were delinquent at the time of closing.
Although there are income limitations, one of the highlighted features of this loan is that there are higher limits under this program than with other loan programs. This means that you can buy or build your dream home without as many restrictions. For more information, please visit the official USDA Website.
Credit Scores as Low as 580
Lower Your Payment with a Lower Rate
Traditionally Lower Rates than FHA Loans
Credit Scores as Low as 580
Flexible Credit Qualifying
Up to 100% Financing
No Down Payment Required
Country Living
Lower Monthly Mortgage Insurance
Much Lower Rates than Most Banks or Credit Unions

We're licensed Mortgage Professionals, and home to so much more than what big banks offer.
Top 3 ways using a Mortgage Broker can Save You Money. 
Get a Lower Interest Rate.
Access to Hundreds of Better Programs
 We work for you not the big bank.
For your next home loan, work with someone who works on your behalf. We're brokers. We're Better.