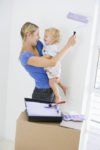 First-time home buyers enjoy many exclusive benefits & incentives. Many cities through the state of Utah offer grants to first time home buyers. Each city may vary on the amount of grant money given or income restrictions. Primarily these 1st time home buyer programs are set up for median income families.
There are a lot of perks to being a first-time home buyer, including the ability to get in the door with no down payment.  You can get into a house with no down payment (USDA), or for as low as 1/2 percent, if you are looking to buy your first house.
Popular 1st Time Buyer Programs

We're licensed Mortgage Professionals, and home to so much more than what big banks offer.
Top 3 ways using a Mortgage Broker can Save You Money. 
Get a Lower Interest Rate.
Access to Hundreds of Better Programs
 We work for you not the big bank.
For your next home loan, work with someone who works on your behalf. We're brokers. We're Better.